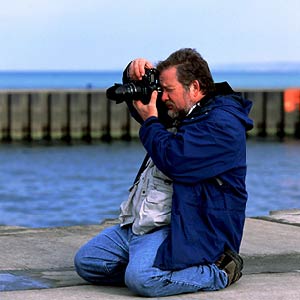 © Casey Martin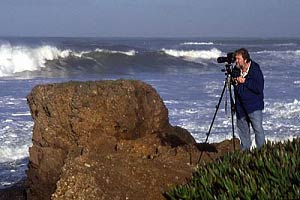 © Bill Taylor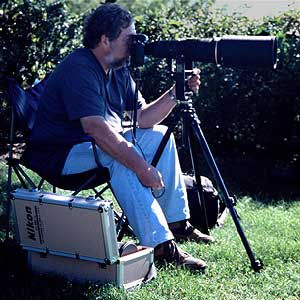 © Terry Forrest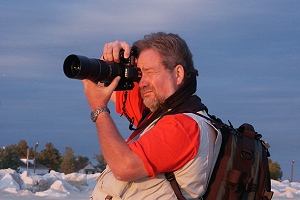 © Terry Forrest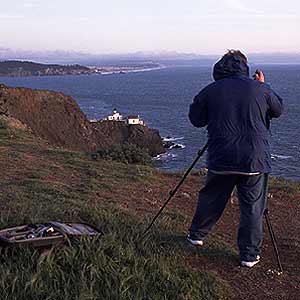 © Bill Taylor
Coastal Beacons ~
Gary Martin Photography

I've been engaged in photography in one form or another for over 30 years as a hobby. I got interested in low light photography and lighthouses about 10 years ago. Living in North Carolina, the home of Cape Hatteras, at the time helped. Lighthouses are often photographed on sunny days and there are many wonderful pictures of them in those conditions. When lighthouses were most valuable to mariners, however, was when night was approaching and in attempting to return home in storms that sometimes savage our coasts. I especially enjoy photographing lighthouses in low light when the lens is lighted and in stormy conditions. The unpredictability of reciprocity failure that results when you do very long time exposures and the way in which colors shift fascinates me. What's a very long photographic exposure to me? Exposures ranging from 1 to 8 minutes or more! I also love being at one of the Great Lakes or near the ocean watching the changes in the light as the sun rises or sets. I often photograph until nearly an hour after the sun has dipped beneath the horizon. Photographing lighthouses during stormy weather is another passion. This is the time, as a mariner, that the port of his or her light would have been the most important when returning to port & a welcoming costal beacon to guide them home! Since I live only about 35 miles from the lighthouse at South Haven, Michigan, it is my most frequent stormy weather subject. Nevertheless, seeing a big wave break on the South Haven pier that juts nearly a quarter of a mile out into Lake Michigan and throw spray 100 feet in the air is always a thrill to see and photograph. I hope you'll enjoy the photographs in the various galleries on this web-site. Please feel free to use the link below to e-mail me with your comments.

At this point, I'm using Nikon cameras and predominantly Nikkor lenses. The lenses that I use range from an ultrawide angle 14 mm f2.8 to a 500 mm f4 AFS telephoto lens. I shoot Fuji slide film exclusively for my low light photography, using Fuji's Velvia, Provia-100F and Provia-400F professional slide films. My slides are digitized for use on the web and to prepare files for digital printing using a Nikon Super Coolscan 4000 ED scanner. Slides are scanned at 4000 dots/inch (dpi) and allow the direct preparation of archival prints up to 12 x 18, and with specialized software, archival prints as large as 30 x 50 inches. Since the fall of 2004, I've begun using a Nikon D2H DSLR camera body for my wave photography. While I was shooting storm images on film, a good day might be 750 or so slides. With digital photography, a good day photographing a strom now may involve 3,000 or more images!

The photos of me on this page were shot by my son, Casey, my wife Lina, and several of my friends, Terry Forrest & Bill Taylor, while I've been out on various photo shoots here in Michigan and California. As you can tell by the progressive greying of my beard, the photos have been shot across a number of years, the most recent that of me photographing a reflection in a pool of water below the Pemaquid Point, Maine lighthouse in April, 2008 to capture a reflection of the lighthouse in the waters of the pool.

Thanks for visiting my web-site and my on-line galleries.

- Gary